West Palm Beach, Florida is pleased to provide guests attending the Governor's Hurricane Conference® with the finest in quality accommodations, hospitality and services. Guestroom rates are based on availability. Transportation will be provided from the Convention Center to each hotel daily as well as transportation between each hotel.
***

POLICY FOR HOTEL RESERVATIONS

***
YOU MUST REGISTER FOR THE CONFERENCE

BEFORE

 RESERVING A ROOM.
The maximum number of guest rooms that can be booked under one name and one credit card is
(2)

two
. 
Any person who has a reservation for a guest room, but has not registered for the conference, are at risk for their reservation to be canceled. This policy has been instituted due to extremely large cancellations made after the cutoff date and thus not allowing other attendees to book guest rooms and causing a negative financial impact to the conference.
Government Rates
Typically, hotels offer per diem rates for a handful of their inventory. Due to the large size of our program, the hotels are unable to offer per diem/government rates under our contract. We have negotiated with the hotels for multiple years in order to keep the hotel rates as low as possible for our attendees.
All tax exempt organizations will be required to present these forms or fill them out at check-in. We strongly suggest that you do so ahead of time to make your check-in go more smoothly. You will still need to present your tax-exempt certificate.
Hotel NGO and State and Local Tax Exemption Form
Hotel Federal Employee Tax Exemption Form
NOTE: Some hotels are currently FULL. There will be cancelations throughout the year. Please keep trying periodically throughout the year as there will be cancellations closer to Spring.
Canopy by Hilton WPB
380 Trinity Place, WPB, FL 33401
0.6 Miles from Convention Center
Phone: (561) 655-0404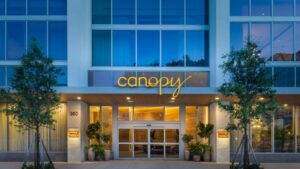 Check-in 4:00 p.m. / Check-out 12:00 p.m.
Click here to make a reservation. Group Rates: Queens/King: $205.00, Complimentary Internet, Valet Parking: $35 overnight
Reservation deadline: April 6th