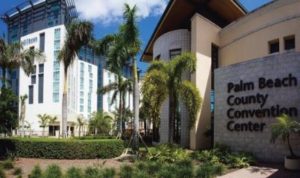 Dear Media Partner:
Welcome to the Governor's Hurricane Conference held at the Palm Beach County Convention Center, located in West Palm Beach, Florida. The dates for this year's conference are Sunday through Friday, May 7-12, 2023.
This year's theme, "Partnering for Success", provides attendees an opportunity to focus on the many significant changes in hurricane planning and new methods to best prepare Floridians for a hurricane or tropical storm.
We invite you to cover the more than 1,600 emergency managers and personnel, first responders, state, federal, volunteer agency, business and industry representatives, along with health and medical professionals from around the state, nation and world. These individuals will come together during the week's scheduled training sessions, workshops and panel discussions to train and learn from each other.
As in past years, the Media Room will be an important offering as part of our conference. We are here to help you and your media organization make the best use of your time and resources for coverage of the week's activities.
In order to plan as best we can for a complex media presence, we would like to inquire if your media organization is planning to cover the conference. Please pre-register by completing the above Media Registration Form in it's entirety.
The Media Room is located on Level 1 in the northwest corner of the Palm Beach County Convention Center, in room 1J/1K, which is right around the corner from the exhibit hall.
Media Room Hours of Operation:
Monday, May 8 – 8:30 a.m. to 5:00 p.m.
Tuesday, May 9 – 8:30 a.m. to 5:00 p.m.
Wednesday, May 10 – 8:30 a.m. to 5:00 p.m.
Thursday, May 11 – 8:30 a.m. to 5:00 p.m.
Friday, May 12 – 8:30 a.m. to 12:30 p.m.
---
Media Room staff will provide journalists with
:
Ÿ
Workspace areas
Ÿ
Access to Wi-Fi
Ÿ
Information on interviews, press conferences, and Q & A sessions with conference speakers and other entities
Ÿ
Information about training sessions, workshops, general session and exhibit hall
---
GHC 2023 Speaker Availability
Interviews will be held in the Media Room's closed off interview area, a designated quiet area near the Media Room or external locations, as available.
General Session
Wednesday, May 10th, 8:45 a.m. – 11:00 a.m.
Palm Beach County Convention Center, Grand Ballroom
Keynote Speakers
Florida Governor, Ron DeSantis (invited)
Kevin Guthrie, Director, Florida Division of Emergency Management
Jamie Rhome, Acting Director, National Hurricane Center
Gracia Szczech, Regional Administrator Region 4, FEMA
Sandra Tapfumaneyi, Director, Lee County Emergency Management
Brock Long, Executive Chairman, Hagerty Consulting
Gregg Weiss, Mayor of Palm Beach County
___________________________
Lastly, and most importantly, media representatives must carry media credentials. Upon arrival, please proceed to the Media Room to pick up your Media Badge for access to all public conference venues.
Thank you for taking the time to help in this effort, I look forward to seeing you soon!
John Jamason, Deputy Director, Palm Beach County Public Affairs
Media Coordinator, Governor's Hurricane Conference
Mobile: (561) 662-7549
jjamason@pbcgov.org